6 Bath time Basics
Looking for ways to make bathtime fun and safe? We've got six picks ranging from non-toxic baby washes to mold free toys and mats that are not only kind to the earth, but also gentle on your baby's skin.

Bathtime can be an enjoyable and relaxing way for babies and toddlers to wind down from a busy day of exploring their world. To make sure you're not accidentally exposing your kids to toxic chemicals often found in bath toys and towels, we've searched far and wide to find the ultimate bathtime essentials for you and your little one.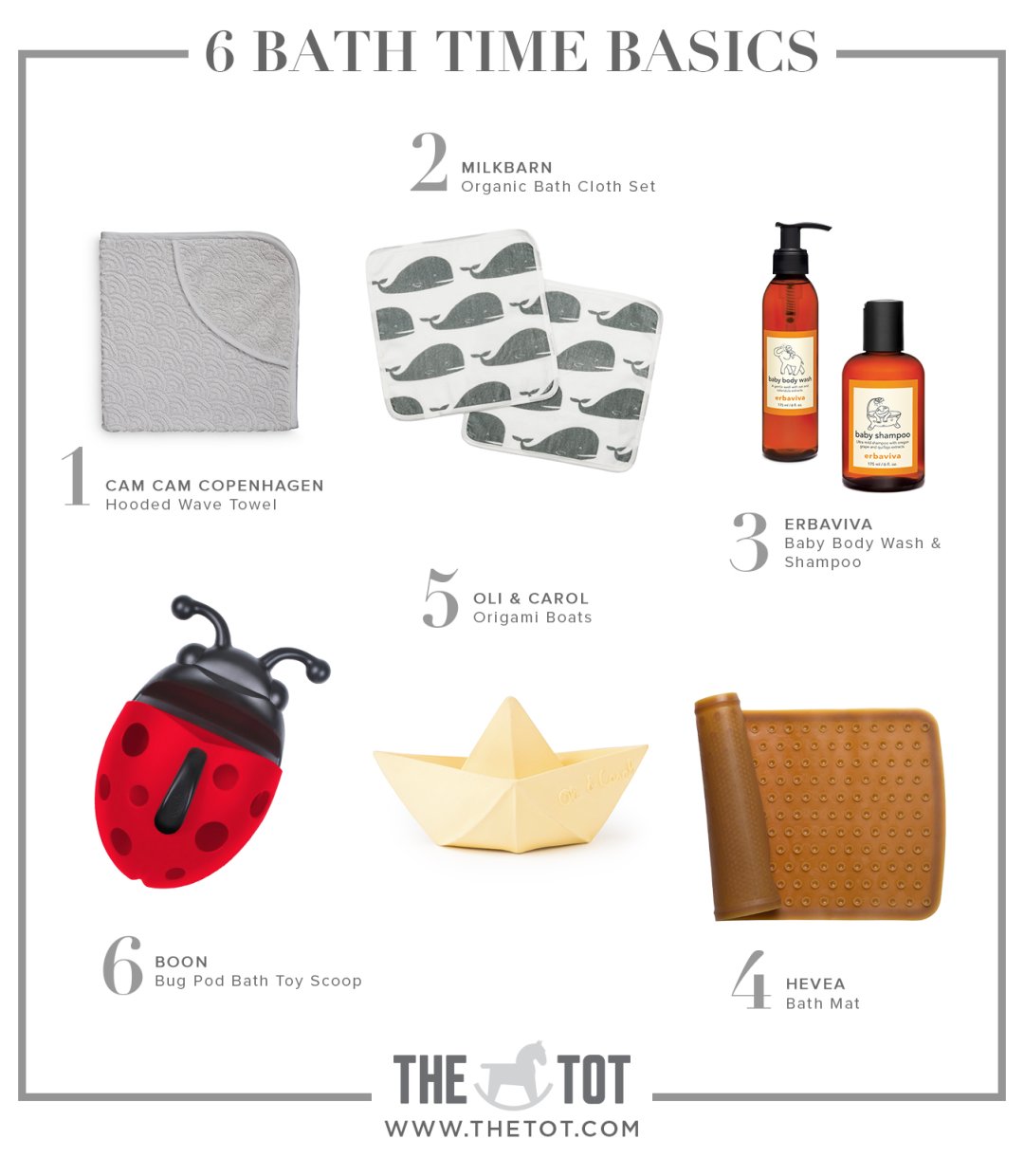 1. Cam Cam Copenhagen Hooded Wave Towel
Made of 100% organic cotton and woven with Cam Cam's signature wave pattern, this lush and thick towel is detailed with a hood making it perfect for bathtime. Measuring 32" x 32", it's easy for little hands to wrap around their bodies keeping them nice and warm before putting on PJs.
2. Milkbarn Organic Bath Cloth Set
Teaching your tot to wash their face and body will be extra easy and fun with Milkbarn's adorable cloths featuring woodland and nautical prints. Made with 100% GOTS-certified organic terry cotton, these oversized soft wash cloth sets include two cloths packaged in a sturdy brown kraft sleeve and make for the perfect baby shower (or should we say 'bath') gift!
3. Erbaviva Baby Body Wash + Erbaviva Baby Shampoo
Formulated for sensitive skin, Erbaviva's baby body wash is made with soothing chamomile, nourishing aloe, and oat and calendula extracts to naturally nurture and clean even the most sensitive and delicate skin. Completely free of laurel sulfates and unwanted chemicals, Erbabiva baby shampoo effectively lathers without drying using Quillaja, a saponin tree bark extract.
Slipping over in the bath is a huge fear of every parent, which is why we recommend the 100% natural rubber Hevea Bath Mat. This non-toxic baby bath mat allows your little one to splash around at bath time without the risk of falling or being exposed to any harmful chemicals such as BPA, Phthalates and PVC. Sustainably produced, the 200+ suction cups keep the mat firmly adhered to the bottom of the bathtub and is naturally anti-bacterial and mold resistant.
The non-toxic and biodegradable Oli & Origami Boat is available in two colors and has a flexible and soft design that makes it easy for small hands to grasp. It has also been engineered to float without a hole in the bottom, so it won't grow bacteria and mold like traditional bath toys. Made with 100% pure latex and hand painted with food-grade dyes, you don't have to worry if it happens to get chewed as it sails by.
6. Boon Bug Pod Bath Toy Scoop
The Boon Bug Pod Bath Toy Scoop is a fun way for your kids to clean up and store their toys. The BPA, PVC and Phthalate free drainable scoop makes collecting and rinsing bath toys a breeze while the wall-mounted base is used for drainage and storage.