Q&A with Daphne Oz
For food-loving mama Daphne Oz, who recently announced she's leaving The Chew (where she appeared for six seasons!), guilt is not an option. Oz, who's about to welcome her third child with husband John Jovanovic, walks us through her third pregnancy – from cravings for watermelon (as in, an entire watermelon!) to anticipating "girl's days" with her new addition and daughter Philomena.

Daphne Oz is one of those women who always has a lot happening. There's her work on The Chew, where she graced our screens for six seasons. There's her ambassador work for HealthCorps, a non-profit she helped create. And of course, there's her young family – son JJ, daughter Philomena, her husband John… and a third baby, currently in transit.
Despite her hectic schedule, Oz says she's "not a fan" of feeling guilty. Though she fesses up to a few mom fail moments (which we've all had!), Oz says she wants to have as much fun with her kids as possible – and is proudest when they tell her jokes or recite their favorite stories to her. We chat to the soon-to-be mama of three about pregnancy brain, Tracy Anderson workouts and her new mama essentials.
Q: What is it like being pregnant the third time around and how have your pregnancies differed? 
On the one hand, I know what I'm in for! And on the other, there really isn't time for me to be as mindful as I was the first or even the second time around. When I was pregnant with my first, I did all the things you're supposed to: lots of napping and pampering, eating well, preparing my body and mind for having a baby. And then of course you're never really prepared! But it was a very relaxing and nurturing experience, and also completely new.
My first two are twenty months apart, so my second pregnancy began when my daughter was only 10 months old, and there was much less time for relaxing (though I did nap when she slept) and a lot more time on my feet chasing a crazy toddler around. The biggest difference going into it a third time around is now there are no guaranteed nap times, but I also don't feel as burned out as I did the second time since my kids entertain each other now. Some of my favorite moments as a parent have been sitting back and watching them be each others' best friends.
Q: Do you have a pregnancy fitness routine?
Historically, I wasn't great about working out during my pregnancies except for doing a lot of walking. I ended up having a ton of back pain later in my pregnancies as a result of lack of exercise, and felt so weak after I gave birth. Plus, it made trying to get back in shape extra difficult because I was starting from scratch.
This time around however, I stuck with my Tracy Anderson routine until about 18 weeks and then switched over to custom sequences and her pregnancy workouts, which have been really great for maintaining strength and flexibility in a low-impact setting. The Ballet Beautiful Baby training is also amazing, especially for arms, thighs and butt. And I still walk a ton, and spend most of my time not at work chasing toddlers, so we'll see where I end up this time!
Q: Any particular cravings or aversions?
I am nuts for watermelon. I could eat an entire one by myself in a sitting. Especially early on, all I wanted was frozen fruit and yogurt smoothies. I love popcorn and hard sourdough pretzels. I always crave pizza. I haven't had any serious aversions except for really fishy fish.
Q: What's the relationship like between your son and daughter and how do you think they will react to the newest member of the family?
They're at a pretty amazing point right now. When our son JJ was first born, Philomena really couldn't be bothered with him. But now that he's a (giant) toddler and a bit more rumble-tumble, he has become her constant playmate. They have these hysterical little games they'll play, and they fight over toys. They hate being apart. It's actually made my life so much easier because they entertain one another. I don't think JJ has any idea another baby is on the way, but Philomena is obsessed with having a baby sister (who she calls "Sugar"), and she runs over to kiss my belly all the time. We talk about the girls' days we'll have all together, which makes me so happy it gives me goosebumps.
Q: Did you ever feel 'second child' guilt? If so, how did you overcome this?
It this does happen, it will probably kick in after the new baby is born and I feel stretched for individual time with all three. Although, I do remember being miserable when JJ was first born because Philomena was sick and I couldn't spend more time with her because I couldn't risk getting him sick. It broke my heart because we missed each other so much. I can see 24 hours in the day needing to be divided between the three of them (and my husband) getting a little nuts, but I'm not a huge fan of feeling guilty – it doesn't change anything. You just do the best you can and move on, showering your kids with love every chance you get.
Q: What's your philosophy on motherhood?
I think it's so important for us to remember that we are still women after we become mothers. We're still allowed to love the things we used to love and be the people we used to be, even though all our priorities have shifted now that we are the upgraded 2.0 version of ourselves. This is the real juggling act of motherhood: how do we meet the needs of everyone who relies on us and take care of ourselves too? The happiest kids have happy parents to show them how it's done, so my philosophy on motherhood has a strong focus on making my kids happy by making sure I'm doing what makes me happy, too.
Q: Most unexpected thing about motherhood?
That children are born with personalities fully intact. You can help shape and nurture them, but they come into the world as themselves.
Q: Hardest thing about motherhood?
That only the superficial things are "in your control." I've never cared about doing something well so much as I have parenting our kids, and the reality is: there is no book of instructions (especially for the tough decisions), and no such thing as a perfect choice. You want to protect your kids from everything, but you also have to let them live outside the bubble. That, and never really sleeping as well as I use to because I hear everything!
Q: What's your proudest mama moment?
Hearing my kids tell jokes and recite their favorite books by heart.
Q: Biggest 'mom fail' moment?
The frequent times I have forgotten to pack "essentials," whether for quick road trips or long hauls overseas. Especially when pregnant, I feel like my  brain becomes Swiss cheese – there's also just so much to remember when you're packing for yourself and two others. But what I've quickly realized is that nothing is actually essential except my kids' blankets, tons and tons of snacks, and a mini pack of play-dough.
Q: What's your parenting style?
I really just want to have  fun with my kids. They're little – 3 and 1 – and I work a decent amount, so when I am able to spend time with them, I hope to make it as playful and carefree as possible. When we're together, we make a lot of mess, and I want them to fully absorb and enjoy being kids. While things are generally fun and care-free, I also try to set consistent standards and boundaries for them, so they know that they can rely on my husband and me as a sturdy, loving foundation.
I tend to be of the mind set that kids are resilient, so this makes me a bit more on the relaxed side. I think this approach has also developed over time – due to the fact that I've had less time to worry as more kids joined the party! With my first, I was definitely more neurotic and anxious about all the things that could go terribly wrong.
Q: How does your parenting style differ from your own mom's?
I think we're very similar actually. We both love adventure – she instilled that in her four kids from an early age, and I hope to bring that sense of maximizing each day into my kids' lives, too. My mom had me when she was 22, so in many ways we grew up together and I became a bit more of a friend than a daughter. I had my first at 28, so my kids are definitely my kids. But neither of us have a ton of "rules" for our children.
The only major difference I can think of is that my mom never made us go to bed, mainly because we often stayed up late to eat dinner with my dad when he got home from surgery. I, however, believe in bedtimes!
Q: How do you treat yourself to 'me' time?
I live in NYC, and the greatest way to unwind is to walk to a new or favorite neighborhood. I walk everywhere – to do all my errands, to meetings, etc. I love listening to podcasts and audio books, so I'll often pop one of these on, too. I'm also a huge fan of Chinese acupressure massage – they're all over the city and you rarely need an appointment, which is perfect for the random (and rare) times I find myself with a free hour.
Q: Go-to meal for your kids?
Turkey burgers that I load up with roasted spaghetti squash and pinto beans. I know it sounds weird and definitely not on the kids' menu, but my kids devour these. It's such a juicy turkey burger full of lean protein, and an amazing way to get even picky eaters to try some veggies and legumes.
To make: I sauté one minced onion and a couple cloves of crushed garlic in about 6 tablespoons of olive oil and let this cool before adding it to 1 pound of ground turkey along with two eggs and plenty of grated parmesan to bind the burgers (mashing the beans a bit helps bind, too – this way, you don't need any breadcrumbs, though you could definitely add them). Throw in the flesh of one medium shredded, roasted spaghetti squash (I bet butternut squash or pumpkin would be great, too) and 1 cup of pinto beans (partially mashed) and stir just until combined. You can also add a handful of chopped herbs if your family likes the flavor; parsley and basil or tarragon work well. Then fry in a sauté pan over medium heat with a bit of olive oil so it doesn't stick until deeply golden brown on both sides and cooked through.
For superfast meals, we also love grilled cheeses on Ezekial 4:9 bread (the sprouted grains are easier to digest and provide more available nutrition) with a side of steamed broccoli in a little olive oil and salt. Basic, but tasty.
Q: Favorite family traditions?
I love when my husband takes the kids for runs early in the morning on weekends so I can sneak away to the farmer's market…or sleep in. I love pizza parties on Fridays and weekly cake baking. I love long brunches on weekends with every carb under the sun, a seasonal frittata, and a big leafy green salad, and my husband's perfect coffee. I love car rides playing everyone's favorite songs over and over again (my daughter has assigned each person in the family his/her own song). I love beach days with picnics and sandcastles. I love cozy nights in Maine, roasting s'mores by the fire. I love dance parties as soon as the kids wake up and before they go to bed.
Q: Most important trait or characteristic that you want to impart on your kids?
I want loving kids with character and a deep curiosity about the world around them. I know I've done my job well when my kids are fearlessly being their wonderful, wild, funny little selves.
Daphne's Must-haves from The Tot: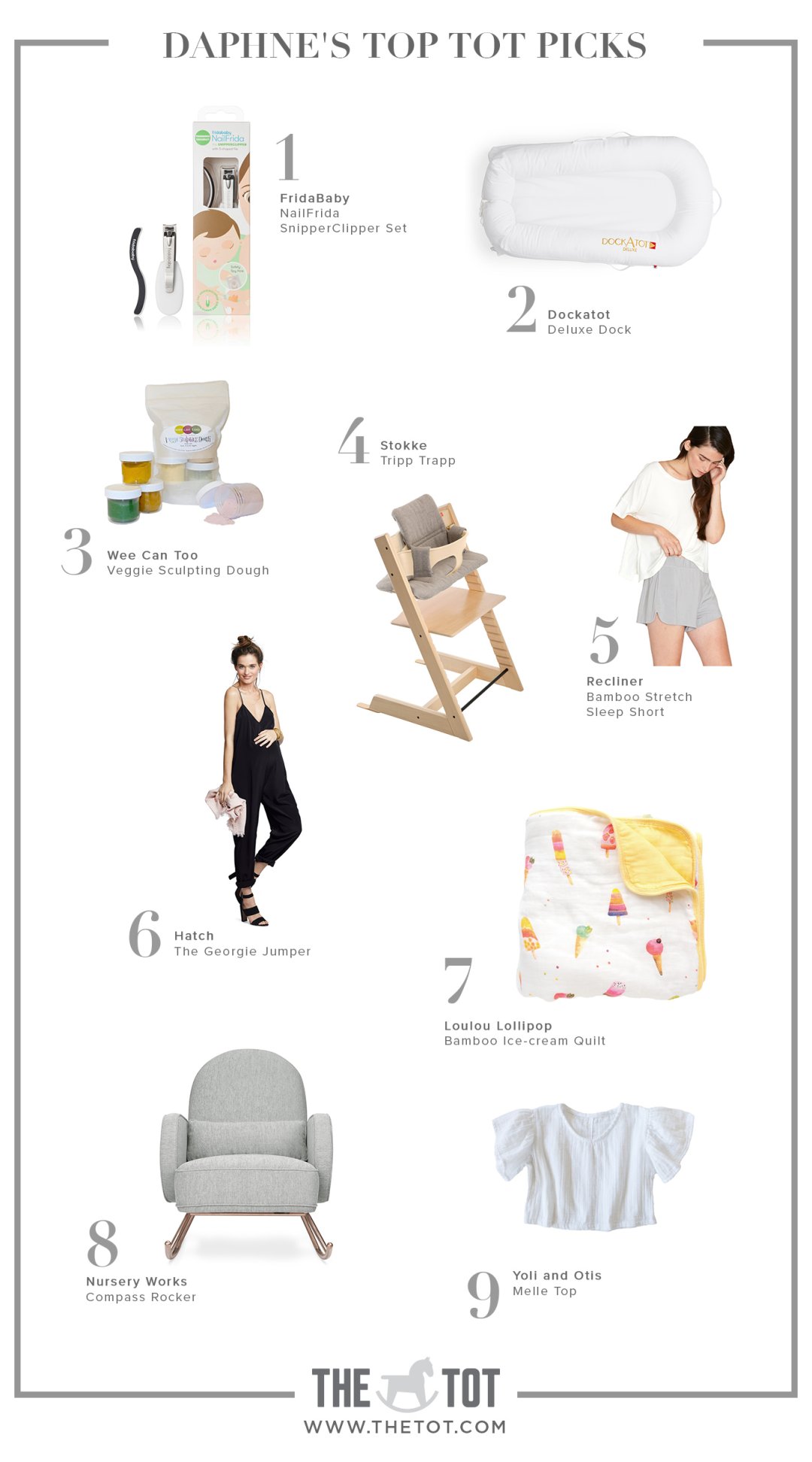 FridaBaby Nail Clipper: I remember cutting my baby's nails with this clipper for the first time; it is revolutionary. I used to dread this task because I would always worry I'd accidentally clip her little fingers, but this one's design is so brilliant it makes it virtually impossible to give anything but the perfect manicure. It's the number one thing I give all my new mama friends.
Dockatot Deluxe: Absolutely essential and amazing for keeping baby cozy and secure as you start to help him or her learn how to sleep longer stretches. Also great for portable naps!
Weecantoo Veggie Sculpting Dough: My kids are obsessed with play-dough. I love that this one is all-natural. (Shop arts + crafts here.)
Stokke Tripp Trapp: Both my toddlers used this high chair. Comfortable, durable, compact enough to store out in the open in our apartment, and easy to clean.
Recliner Bamboo Sleep Tee & Shorts: Love sleeping in this incredibly soft set, pregnant or not.
Hatch the Georgie Jumper: This jumpsuit has quickly become a favorite easy way to get my belly dressed since it is so barely-there and sleek.
Loulou Lollipop Bamboo Ice Cream Quilt: We fell in love with super-soft muslin blankets when I discovered  Aden & Anais (we must have 30 of their dream blankets, my kids won't leave home without them!), but the print on this one is too perfect.
Nursery Works Compass Rocker: A gorgeous, comfortable nursing chair is key, and it doubles as a perfect place to read books and relax with the kids as they get older. (Shop rockers and gliders here.)
Yolli and Otis Melle Top: Obsessed with old school kids clothes with a modern twist.