Four Kickstarter Kids Brands We Can't Get Enough Of
Kickstarter crowdfunding has brought us numerous apps, movies and events, but let's not forget about the amazing products people have backed. From a wooden robot that teaches kids coding to a children's book designed to shape little feminists at bedtime, Kickstarter has launched brands that are changing the game around the world. Here are four of our favorites.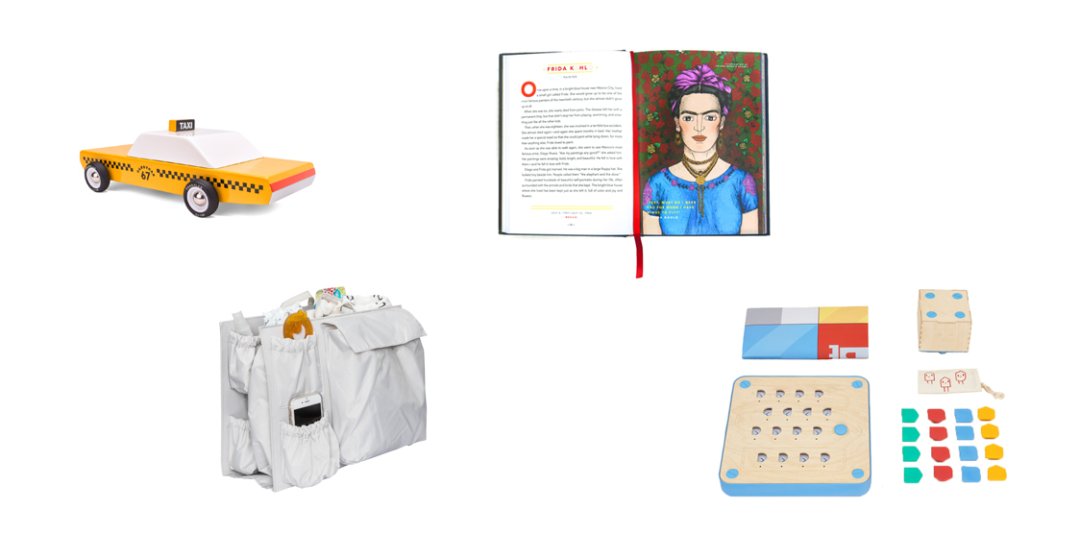 Crowdfunding is a simple idea: A company or person tells you what they want to make, why the world needs it and how much money they need to make it happen. People like us can decide if they think it's cool and pledge a donation. If said company meets their fundraising goal, then the project gets officially backed and you (the backer!) usually get something in return for your investment. Pretty neat, huh?
As parents, we often find ourselves wishing for things that don't exist yet. While some simply dream, others do and use platforms like Kickstarter to make the dreams a reality. Below are four brands, started by parents, that were made possible by Kickstarter.
Across four Kickstarter campaigns, Candylab has raised over $350,000 from 3,338 backers to bring their art deco, retro and vintage inspired wood cars, trucks and trailer toys to life.
Made of solid wood and finished with non-toxic paints, these heirloom items can double as décor and are erasing the mountains of plastic one might see in a playroom (or landfill) one drive by at a time.
As artists, designers and parents, the creative minds behind Candylab share a love for classic American cars and the craftsmanship spirit of mid-century artisan furniture designers. They also strive to create durable and elegant toys that allow children to use their imaginations to create their own fun and adventure while discovering how transportation toys work. From an 80s inspired New York City taxi cab to a Jeep wagoneer from the beaches of California, Candylab is throwing it back to the best parts of history.
28,929 people raised $1,541,807 to help reinvent the fairytale. Conceived by Timbuktu Lab founders, Elena Favilli and Francesca Cavallo, Rebel Girls is a two part series of books packed with 200 fairytale-esque stories about 200 extraordinary women from the past and the present. Illustrated by 200 female artists, each story is inspired by the life and adventures of extraordinary women from Nefertiti to Beyonce. Featuring real women who have achieved incredible results, despite all odds and rebel girls whose actions have changed the course of history, the books feature painters, scientists, dancers, chefs, astronauts, jazz singers, pharaohs, boxers, writers, political leaders and more.
Good Night Stories for Rebel Girls Volume 1
Good Night Stories for Rebel Girls Volume 2
In case you need to know for Trivia night, the most crowdfunded education-tech project in the history of Kickstarter was/is Primo Toys' Cubetto! Over 10,000 backers raised $2.4 million to produce the Montessori-approved wooden interface board and robot called Cubetto that teaches kids the basics of computer programming through adventure and play.
Designed for kids 3+, it is used in classrooms and living rooms around the world and is purposely made to teach coding without the use of a tablet screen. By using different shaped and colored tiles, kids can create commands for Cubetto and see firsthand how they can direct the robot's moves.
In 2012, Lauren Kutting was newly pregnant and on a mission to find the best diaper bag in the world. Only catch – it had to be fashionable AND functional. After a trip to New York City where she visited every major department store and boutique shop she could think of, Lauren decided that she'd prefer to use one of her existing tote bags that she already loved dearly. Unfortunately, they lacked pockets and became an abyss of diapers and wet wipes. After a very long and unorganized flight, Lauren had the genius idea to make an insertable organizer that turns your favorite handbag into a diaper bag. It took some trial and error, but she finally came up with a glorious prototype and after a successful Kickstarter campaign with 134 people raising over $35,000, she founded Life in Play and the ToteSavvy and ToteSavvy Mini were made possible much to the delight of grateful mamas across America!