The Tot Gift guide by age group
Looking for the perfect present for a child in your life? Our gifts for kids aged 0 to 6 are perfectly suited to their interests and abilities at each developmental stage.
Have you ever stood in a toy store and stared blankly at the dizzying array of playthings with no idea how to choose a gift for a tot in your life? I have three kids and it still happens to me all the time. I pick up boxes and desperately turn them over in my hands, looking for some indication of the age group they're appropriate for. Sometimes I find the big red "4 years +" stamp and I start arguing in my head, "Surely three-year-olds can paint?!" Or I don't find a stamp at all and I get annoyed that the manufacturer is so unhelpful.
Phew – it's exhausting, isn't it? Well, with our guide to gifts that stimulate children's development at each age and stage, it doesn't have to be. The perfect present is just a click away!
0-6 months
Between birth and six months of age, you'll watch your little one evolve from a helpless newborn to a capable baby who smiles, coos, babbles, reaches for toys, loves watching faces, responds to their name, holds their head steady, rolls over in both directions, and may even sit without support. Toys that stimulate their developing vision and that provide interesting textures and sounds when shaken or squeezed are ideal at this age. You'll want to make sure all toys are safe and non-toxic because young babies love to put everything in their mouths!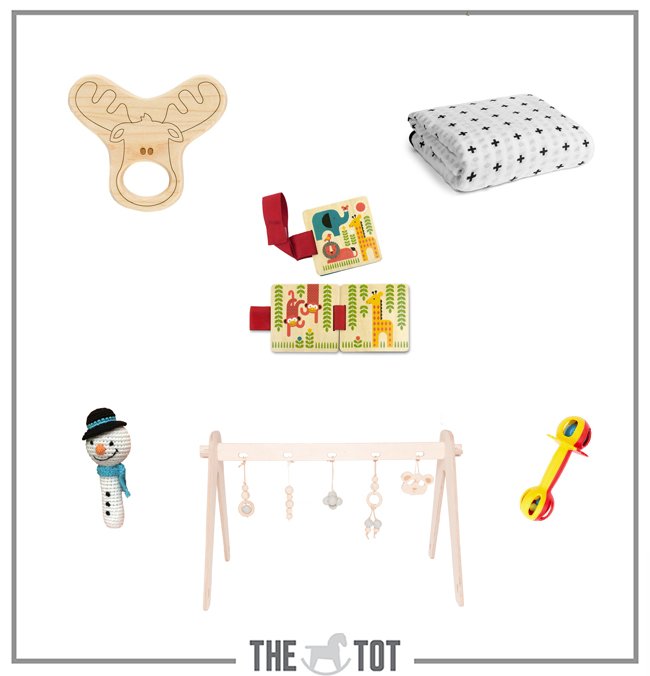 Hover over each image for more details
6-12 months
By their first birthday, your child will be able to say simple words such as "mama" and "dada", wave bye-bye, play games such as "peek-a-boo" and "pat-a-cake", bang together and throw toys, point at pictures of some objects when you name them, put things in and take things out of a container, follow simple directions, sit up and pull to stand on their own, and maybe even take a few steps! Choose toys that stimulate their senses and help to develop basic skills such as hand-eye coordination.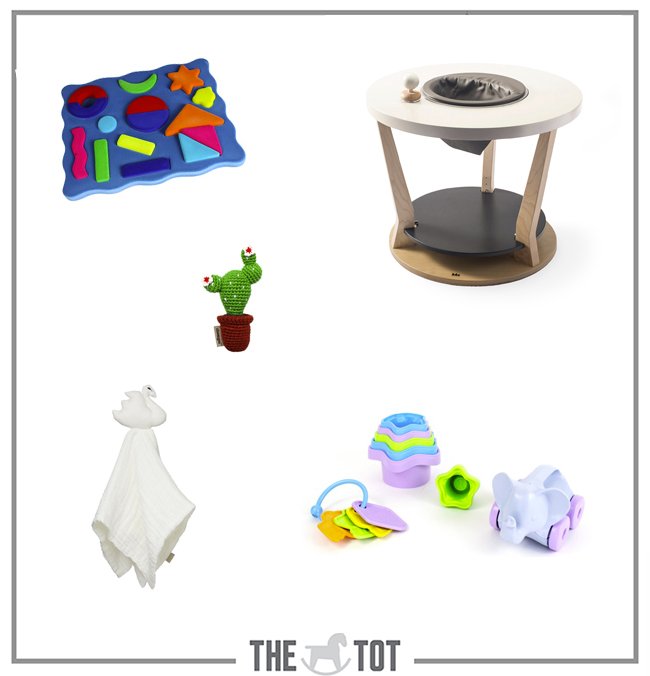 Hover over each image for more details
12-18 months
Your 18-month-old hands toys to others, pretends to feed a doll, points at interesting and desired objects, says a few single words including "no", can follow simple directions such as "sit down", can drink from a cup and eat with a spoon, walks alone, and may even run. But this is also the age of temper tantrums and fear of strangers, so be prepared! Puzzles, picture books and toys that encourage walking or can be pulled as they walk make great gifts at this age.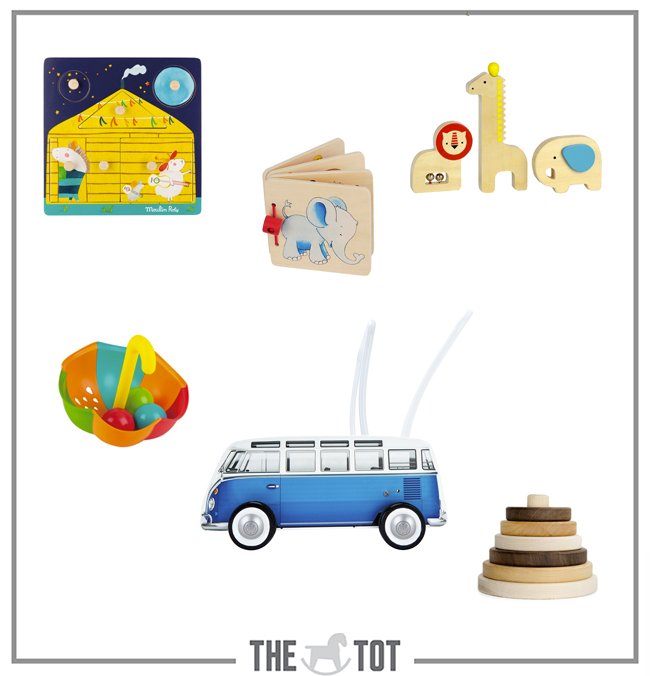 Hover over each image for more details
2 years and up
By age two, the apple of your eye is becoming more independent, copies others, gets excited when playing with other kids, says sentences of two to four words, completes familiar rhymes, plays simple make-believe games, starts to sort shapes and colors, builds small block towers, names some items in a picture book, begins to draw straight lines and circles, kicks and throws a ball, runs, and walks up and down stairs while holding on. Choose toys that will enhance the development of their gross motor and fine motor skills, as well as encourage imaginative play.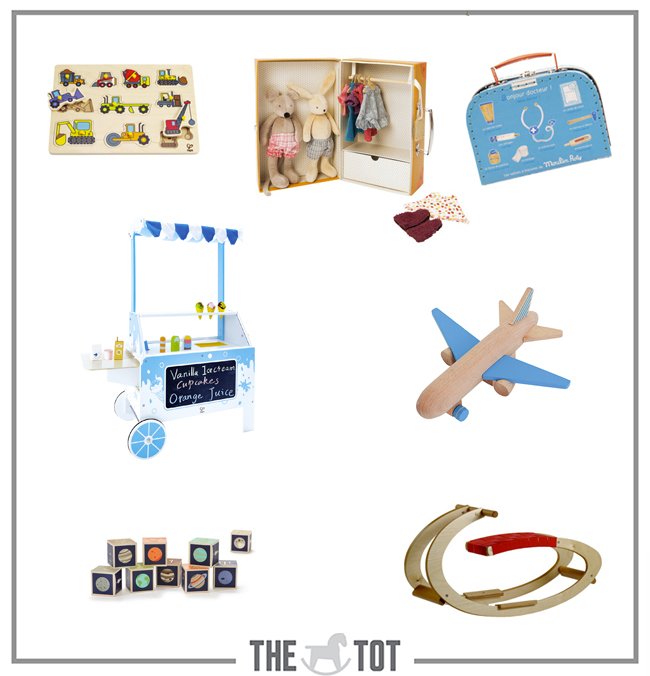 Hover over each image for more details
3 years and up
Your three-year-old takes turns when playing games, shows concern for a crying friend, gets dressed alone, says their first name and age, strings two to three sentences together, plays more complex make-believe games, uses toys with levers and buttons, turns door handles, climbs and runs well, and pedals a tricycle. The following toys will stimulate their physical, cognitive, social and emotional development at an age-appropriate level.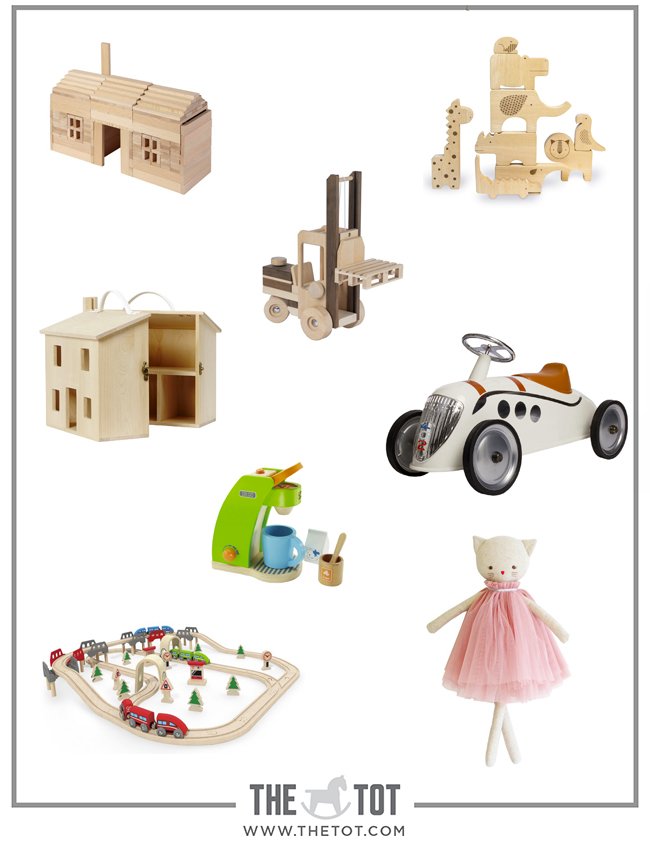 Hover over each image for more details
4 years and up
Four going on fourteen! Four-year-olds love playing with other children, cooperate with them, have very active imaginations resulting in advanced pretend play, talk about their likes and interests, tell stories, recite well-known songs from memory, name some colors and numbers, start to write some capital letters, begin to understand time, draw a basic person, stand on one foot, and can often catch a bounced ball. Spark their imagination with books and pretend play sets, and help them refine their fine motor skills with puzzles and blocks.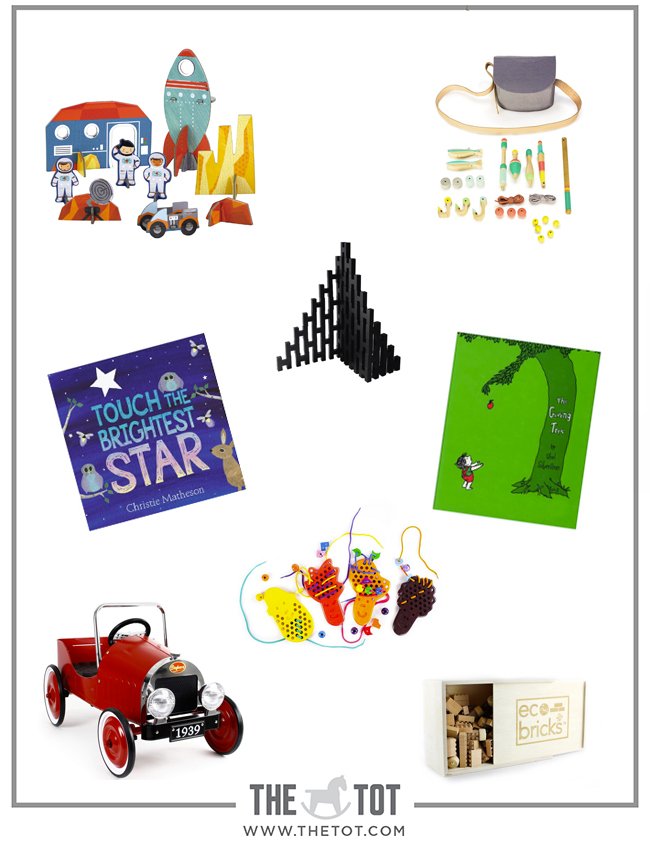 Hover over each image for more details
5 years and up
Hello, kindergartener! By age five, your child is more likely to abide by rules and be cooperative. They want to please their friends, love to sing and dance, speak clearly, use full sentences and the future tense, tell more complex stories, count 10 or more objects, write some letters and numbers, copy some shapes, do somersaults, swing and climb easily, and use the toilet on their own. They're ready for more advanced gifts such as a computer coding set or a book that answers life's big questions.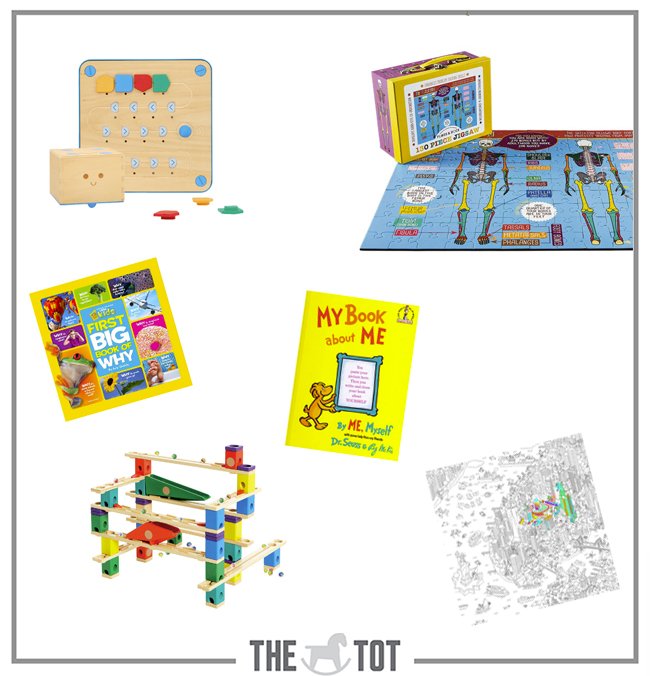 Hover over each image for more details
6 years and up
It's official: your child is a Big Kid. They're learning to write, starting to understand cause-and-effect relationships, continuing to develop their imaginative play, developing their empathy and sense of humor, speaking with correct grammar most of the time, reading some words, writing their name, drawing a person with at least eight body parts, skipping and running with ease, and catching a ball. They'll love books, crafts, and toys that allow them to build, create and fix things just like Mom and Dad.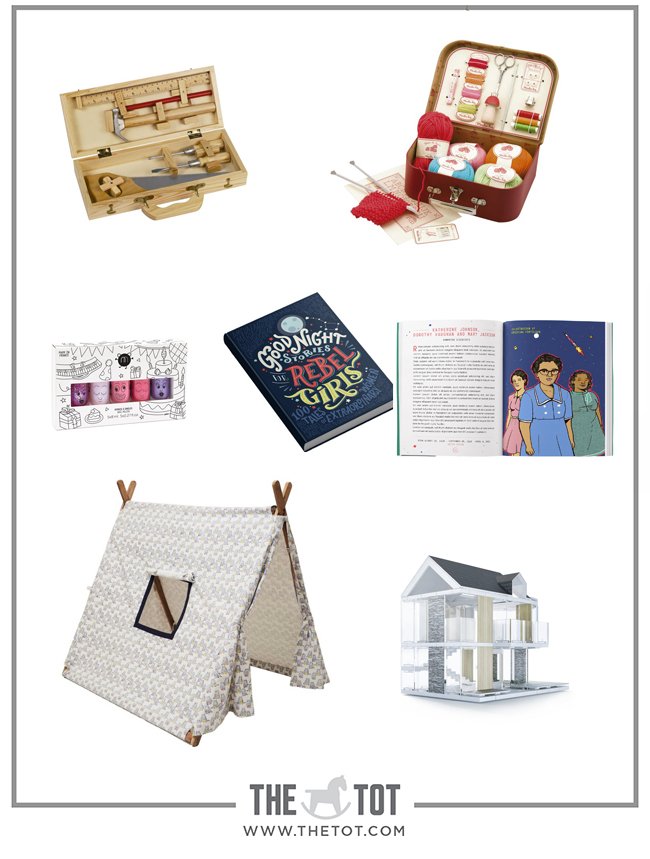 Hover over each image for more details