A guide to educational gifts
Rather than giving the same presents everyone else buys to the tots in your life, stand out from the crowd by offering them educational toys.
When a friend or family member has a baby, it can be very tempting to buy them an array of adorable outfits in teeny-tiny sizes or a fluffy stuffed animal that makes you go, "Awwwww!" (Don't worry – I still succumb to the temptation all the time!) But most people give clothes and other cutesy items, so why not give your favorite babes gifts that stimulate their brains and support their development? Their parents will be grateful for the thoughtfulness and originality of your offering.
You can't go wrong with any of the following high-quality, Tot-approved educational gifts. The only difficulty will be choosing which one to give!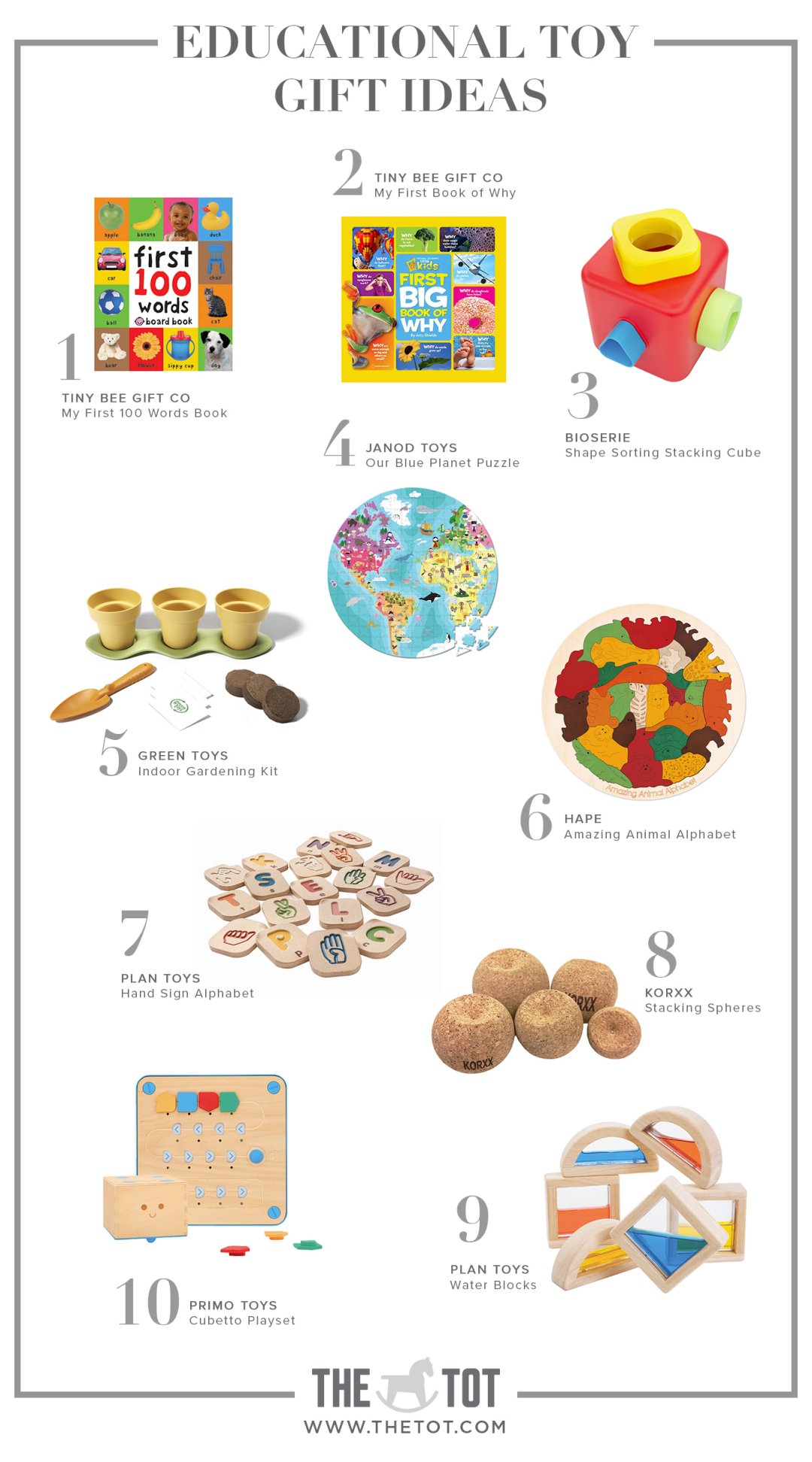 From birth
First words board book: My eldest daughter received this Tiny Bee Gift Co My First 100 Words Book as a baby and it was her absolute favorite. Then my twin girls fought over it so much that it ripped in half (it's very sturdy so you can imagine the intensity of the battle!), but that turned out to be a good thing because they each get their own portion now. It's such a fantastic book with colorful photos of everyday objects that engage children and encourage them to speak their first words. Plus, for each book purchased, Tiny Bee donates a second book to Baby2Baby, which provides low-income children with basic necessities. It's a winner!
From 6 months
Shape sorting and stacking cube: What kid doesn't love a shape sorter? Bioserie's Shape Sorting and Stacking Cube helps little ones explore shape and size concepts as they place shapes onto or inside the cube. Made from a superior blend of bioplastic, this innovative cube is safe for the environment and free from harmful chemicals that could compromise your child's health.
From 2 years 
Hand sign alphabet: Plan Toys' Hand Sign Alphabet Blocks feature all the letters of the alphabet and their corresponding American sign language pictures impressed on sustainable rubber wood. You'll be amazed at how quickly young children can learn signs.
Cork stacking spheres: These amazing Bal-Lu Cork Stacking Spheres provide children with a blank canvas to discover and learn through play. Fashioned from sustainable cork trees and free from nasty chemicals, they'll entertain little ones for hours with their easily stackable shapes.
From 3 years
First Big Book of Why: Anyone who has a preschooler knows that their favorite question is "WHY?" You can finally answer all their queries with Tiny Bee Gift Co's My First Big Book of Why. Using an interactive format to address questions such as "Why do planes fly?" and "Why do I have to eat my vegetables?", it encourages children to ask big questions and think big thoughts. Then, it provides them with answers that are engaging and age-appropriate, and helps prepare them for school in an interactive manner.
Water blocks: Children will be so mesmerized by these eye-catching Plan Toys Wooden Water Blocks that they won't even realize they're developing their fine motor skills, spatial awareness and problem-solving skills as they play with them. The set includes three squares and three half-circles crafted from sustainable rubber wood and filled with colored, non-toxic dyes.
From 5 years
Indoor gardening kit: Aspiring gardeners will love growing their very own plants with Green Toys' Indoor Gardening Kit, which is chemical-free and made from 100% recycled plastic. This nine-piece set features a peapod-shaped planter tray, three planting pots, a trowel, soil pods and three different kinds of organic seeds.
Animal alphabet puzzle: Hape's Amazing Animal Alphabet Puzzle is made from child-safe wood and non-toxic finishes. Featuring 27 wooden animals with the letter of the alphabet they represent printed underneath, this colorful puzzle enhances cognitive development and fine motor skills.
Primo Toys Cubetto Playset:
In 2013, Primo Toys launched a Kickstarter campaign to fund an educational coding toy for kids aged three to six that doesn't require any use of computers or tablets. The Primo Toys Cubetto Playset teaches kids coding without the use of computer or tablet screens and it expands play time with a world map, educational story book and challenges that take your child on epic coding adventures.
From 6 years
Double-sided puzzle: Janod Toys' Our Blue Planet Double-Sided Puzzle is covered in beautiful illustrations of the continents as well as the people who live there, their occupations, their traditional dress and their animal friends. With 208 double-sided pieces, you can put together the Americas, Africa, Europe and the Middle East one day, and Asia and Australia the next.